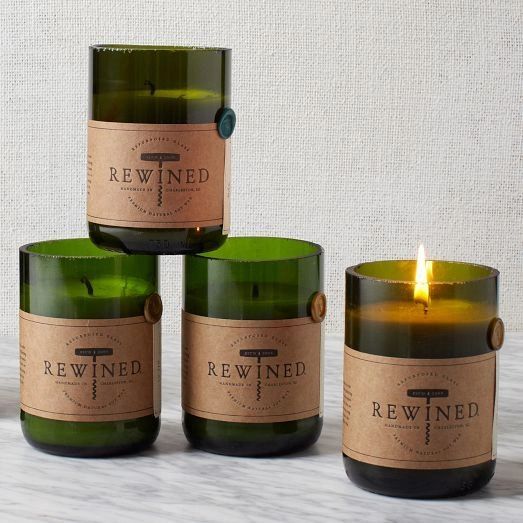 Candle Rewined 11oz
Each candle is handcrafted in order to ensure an original product of the highest quality. After collecting thousands of discarded bottles, these empty vessels are filled with new life. First, each bottle is cut by hand. Next, premium natural soy wax, laced with an intoxicating blend of fragrances is hand poured into the bottle. Each fragrance is designed to mimic the flavors and aromas you find in your favorite varietal of wine. 60-80 hours of burn time.
Available scents:
Cabernet - While sampling this deep red varietal, look for rich aromas of black cherry and currant. Let the background notes of smoke and toast round out this bold red.
Champagne - This festive varietal evokes feelings of celebration and joy. Look for sweet notes of white grape, honey, fresh baked bread, and light citrus.
Chardonnay - This rich white varietal offers warm notes of vanilla, butter, and burnt toast. Look for deep hazelnut and cedarwood undertones.
Merlot - As you enjoy this medium bodied varietal, let the bold aromas of violet and rose take hold. Pick up the scent of ripe pomegranate and plum followed by a cool vanilla finish.
Mimosa - With the subtle scent of effervescent Champagne and fresh-squeezed orange juice, this special seasonal release will dazzle guests and captivate connoisseurs—right down to the elegant label and vintage seal. Limited to Spring Only.
Pinot Grigio - In this smooth, clean white varietal look for the smooth aroma of sandalwood and crisp minerality held together by a strong citrus backbone.
Pinot Noir - This earthy, complex varietal reflects upon it's producing ground. Fresh notes of fig and cranberry are rooted by the rustic aromas of leather and violet, all blossoming within the bouquet of musky earth tones.
Riesling - A sweet, lush varietal offering the scent of Asian pear, juicy tropical fruits, and ripe citrus. Look for subtle notes of honey and a light floral essence.
Sangria - This refreshing summer cocktail offers notes of ripe mandarin orange, juicy pineapple, lush cranberries, and a dash of cinnamon. Limited to Summer Only.
Sauvignon Blanc - A crisp and refreshing white varietal delivers clean herbal notes of basil and mint, followed by freshly mown grass and a hint of tart grapefruit.
Spiked Cider - This Autumn favorite is sure to warm up those chilly evenings offering a rich blend of fresh apple, cinnamon, and clove. to finish it off we've spiked it with the deep buttery aroma of dark rum. Limited to Autumn Only.
Wine Under The Tree - The scent of a fresh cut Christmas tree brings back some of our favorite holiday memories. Reminisce about your holiday memories, and create new ones with our winter seasonal candle offering inviting notes of blue spruce and a hint of bright citrus. Limited to Winter Only.
WARNING: Be careful when handling. Cut glass can be sharp. For an even burn always allow candle to melt entirely across the top. Trim wick to 1/4" before lighting. Burn in increments of four hours or less. Never burn unattended. Do not burn on or near flammable materials. Keep away from children and pets.