Ginger Root Infused Maple Syrup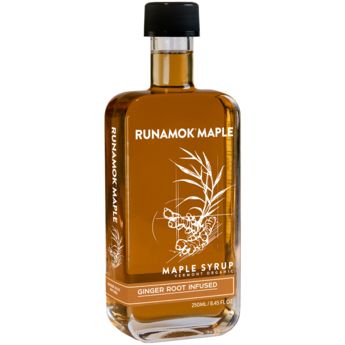 Ginger Root Infused Maple Syrup
"We use fresh, organic ginger to create this spicy and addictive syrup. The possibilities for using this syrup are endless.  It is delicious on pancakes and waffles, of course, but it is also great in tea, pastries, vinaigrettes, stir-fry or as a glaze.  With a serious ginger kick, it can stand up to spirits and will add an exotic and sweet element to cocktails.
We are excited to announce our Ginger Root has been awarded a "Best New Product" from the Specialty Food Association's "sofi"award in the Dessert Sauce, Topping & Syrup category." - Runamok Maple
250ml
Certified organic by Vermont Organic Farmers. Our woods are certified as Bird-Friendly by Audubon Vermont.