Made in Georgia! Ginger and Turmeric Bites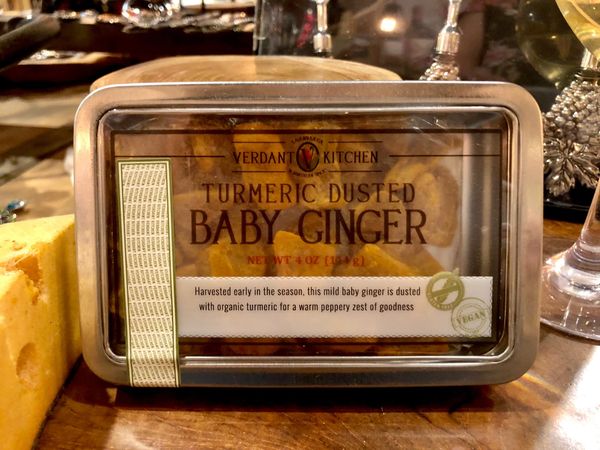 Made in Georgia! Ginger and Turmeric Bites
LEMON & MINT DUSTED BABY GINGER 4 OZ
A fresh burst of wellness. The fragrance of organic mint and bright tang of whole organic lemons infused into mild preserved baby ginger. Packed with layers of flavor.
Enjoy it as your new favorite refreshing and natural snack. Take it along as the perfect travel companion. Add a piece to a water bottle for an infusion of freshness. Adorn a cheese board with these zesty gems.
_______________
Preserved Baby Ginger - Warm and sweet, baby ginger is harvested early in the season and packed with antioxidants and anti-inflammatories. Ginger is prized for its ability to reduce nausea and can enhance circulation.
Mint - The volatile oils in mint with its characteristic fresh scent offer a cooling and calming effect. Mint has a long history of use to calm upset stomachs and soothe sore throats. The high levels of antioxidants in mint can help reduce oxidative stress.
Lemon - The lively citric tang of lemon comes from its high level of vitamin C, which is critical for good health and a strong immune system. 
TURMERIC DUSTED BABY GINGER 4 OZ
A natural source of antioxidants and anti-inflammatories. A delicious way to fight seasonal allergies.
The soft, warm spice and delicate texture of baby Ginger are complemented by the brilliant color, aroma, and taste of our USDA Organic, raw food dehydrated USDA Organic Turmeric. This vegan and gluten-free combination bring together a wellness duo in a functional clear hinged tin.
A color and flavor burst when added to salads, a great addition to your travel pack and a perfect accompaniment to cheese. Add it to your blender for a punch in a smoothie, swirled into yogurt, or eat it by the piece for the calming impact of Ginger along with the soothing impact of Turmeric.